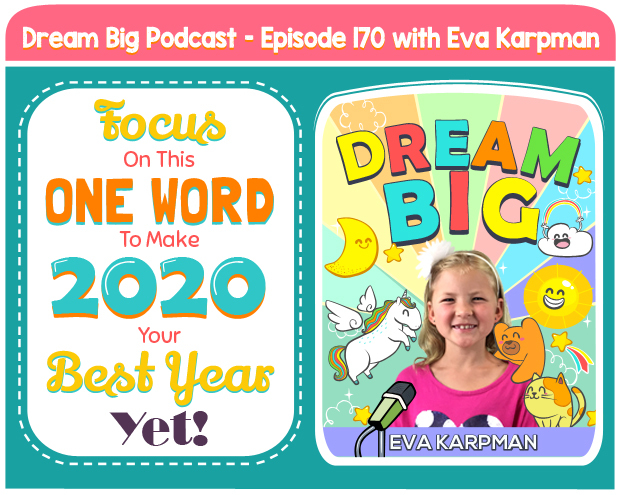 Share this: 
LISTEN TO OUR PODCAST
Subscribe and listen to the DREAM BIG Podcast on:
iTunes  |  Stitcher  |  Google Play Music  |  Soundcloud  |  iHeartRadio  |  Spotify
SOLO EPISODE FROM EVA
This episode is being published on December 30, 2019 — so 2019 is about to be a wrap and we are on to 2020. This episode is about the ONE WORD that will be a central theme for Eva (and our entire family) in 2020. Be sure to listen to this episode to find out how if you make this ONE WORD the focus of your energy in 2020, it will surely be your best year yet. And you can apply this word to your family life, to your school life, and to your work life for the adult Big Dreamers. Listen to the episode to find out what the ONE WORD is that will make 2020 a life-changing year for you! As you can tell, we are not spilling the beans here, as we really want you to listen to this final episode of 2019. Also, in the resources section below we are including links to Eva's final episodes of 2017 and 2018, where she shares our family's 3-step process for making resolutions that actually stick AND how to decide which goals to make priorities for the coming year. We encourage you to listen (or re-listen) to those episodes too as you think about your big dreams for 2020.
Thank you from the bottom of our hearts for all your support in 2019. Wishing you and your family a healthy, joyous and prosperous 2020.
RESOURCES
>> Last chance to get access to the Dream Big Academy Beta<< 
The Dream Big Academy beta is essentially a stand alone course on confidence — with over 1 hour of videos with Eva teaching on the subject! We hired an amazing illustrator who helped us with the videos and accompanying worksheets. This is the final week that the Beta will be available, as we plan to launch the Academy in early 2020 and already have all the feedback we need. Please go to DreamBigPodcast.com/Beta to get this offer before it is gone.
 >> Get Eva's Free Confidence Secrets Course Here <<
BECOME A DREAM BIG INSIDER
CLAIM YOUR FREE DREAM BIG JOURNAL

We are currently offering a FREE & PERSONALIZED Dream Big Journal to say thank you for supporting our show.  Click the link above to claim your journal while this special offer is still available.
THANK YOU FOR LISTENING — SUBSCRIBE & LEAVE A HONEST REVIEW. GET FREE PERSONALIZED STICKERS!
To get Dream Big episodes sent directly to your device as they are published, you can subscribe:
Subscribe and listen to the DREAM BIG Podcast on:
iTunes  |  Stitcher  |  Google Play Music  |  Soundcloud  |  iHeartRadio  |  Spotify
If you received value from our podcast, we would greatly appreciate if you could take a minute to leave us a review on iTunes review on iTunes here. This helps us get more exposure for the podcast and in turn allows us to inspire more people to dream big. We read each and every review and are so grateful to our listeners who have taken the time to write us one. For a limited time only, as a way to say thank you for taking the time to leave an honest review, we will mail you 48 free personalized stickers! Follow the instructions at DreamBigPodcast.com/bonus to get your free stickers!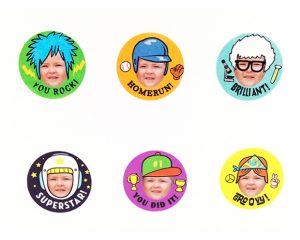 Thanks again for all of your amazing support.
Share this: