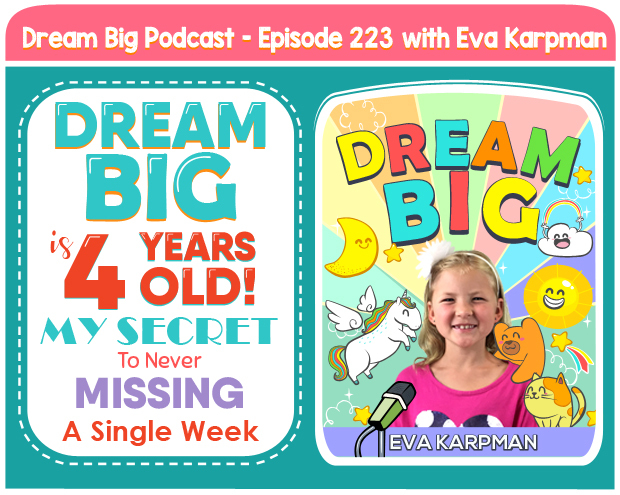 Share this: 
LISTEN TO OUR PODCAST
Subscribe and listen to the DREAM BIG Podcast on:
iTunes  |  Stitcher  |  Google Play Music  |  Soundcloud  |  iHeartRadio  |  Spotify
SOLO EPISODE FROM EVA
It is hard to believe we are celebrating 4 years of the Dream Big Podcast this month. Eva started Dream Big when she was just 7 years old, and we can safely say that helping Eva launch the podcast was the best parenting decision we ever made. We are obviously blown away by all the incredible guests she has interviewed. Truth be told, it is surreal to sit next to your daughter as she has thoughtful one-on-one conversations with Mark Cuban, Dr. Shefali, General Stanley McCrystal, Bethany Hamilton, and Kobe Bryant.
But what gives us the most pride is the commitment Eva has shown to bring our listeners a new episode every Monday for the past 4 years. There are times when we are going out of town and we need to batch record a handful of episodes, or Eva is not feeling well but still sits down to record in order to hit an important deadline. In this special anniversary episode, Eva shares her secret to publishing a new episode every Monday, week-after-week, year-after-year. Eva, we are so proud of you and the tremendous effort you put into the podcast. You are an inspiration to all the Big Dreamers, and also to your family!
If the Dream Big Podcast has had a positive impact on your life, please consider sharing your experience at ShareWhatHappened.com/DreamBig Eva will be responding to everyone who participates by October 31, 2020 with a personalized video. While the podcast has been an amazing personal experience for Eva, it is from hearing about your wins that Eva finds the energy to continue publishing new episodes each and every day. Thanks again for an incredible first 4 years, and we look forward to many more to come!
RESOURCES
Not sure where to get started?
It is as easy as 1, 2, 3.
Step 1 – Enjoy These FREE Resources:
Step 2 – Subscribe To The Dream Big Podcast
Step 3 – Connect With Our Community
Share With Eva How The Dream Big Podcast Has Impacted Your Family's Life. Eva Will Respond With A Personalized Video Message 🙂