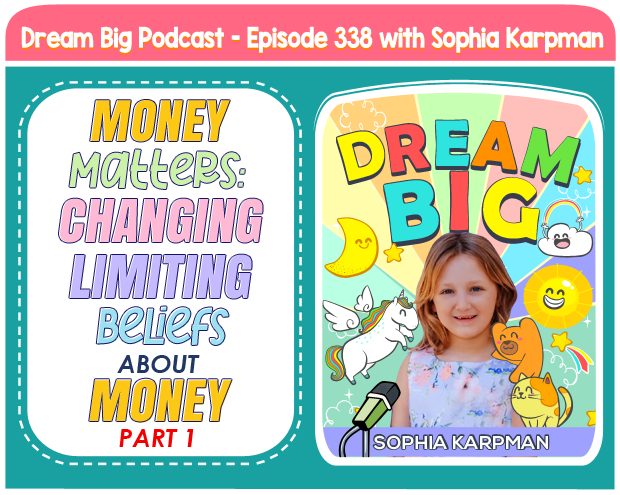 Share this: 
LISTEN TO OUR PODCAST
iTunes  |  Stitcher  |  Google Play Music  |  Soundcloud  |  iHeartRadio  |  Spotify
SOLO EPISODE FROM SOPHIA
"Money doesn't buy happiness, but it can buy ice cream, and that's pretty close."
Welcome to the first episode of our new series, "Money Matters." Today, Sophia and Olga will be teaching you big dreamers all about money and how to use it wisely. In this first episode, they are going to be talking about the concept of money, limiting beliefs about money and how we can use money to make our big dreams come true and to help others as well.
We know that learning about money can be intimidating and overwhelming, but don't worry, we're here to help make it fun and easy to understand. In this series, we'll be exploring the basics of money and how to manage it, as well as some tips and tricks for saving and investing.
Grab your piggy banks right now and get ready to start your financial journey with us! We hope you find this as insightful as we do! Enjoy!
Resources:
DB #349: Money Matters: How Kids Can Earn Their Own Cash. Part 2
DB #172: $200 in 2 Hours Selling Hot Chocolate!! Here's the SECRET to how we did it.
Not sure where to get started?
It is as easy as 1, 2, 3.
Step 1 – Enjoy These FREE Resources:
Step 2 – Subscribe To The Dream Big Podcast
Step 3 – Connect With Our Community
Share With Eva How The Dream Big Podcast Has Impacted Your Family's Life. Eva Will Respond With A Personalized Video Message 🙂