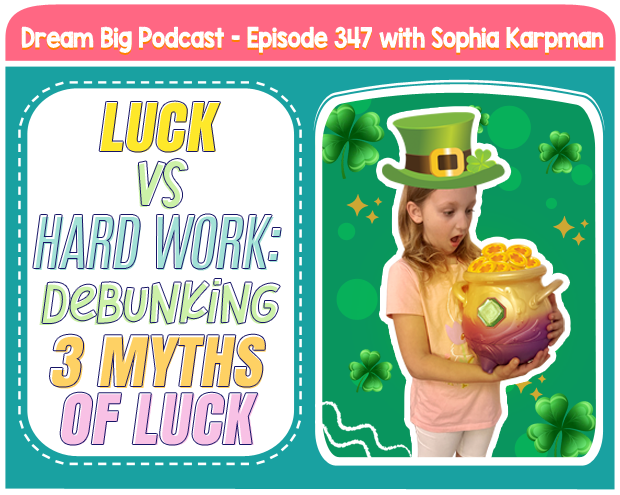 Share this: 
LISTEN TO OUR PODCAST
iTunes  |  Stitcher  |  Google Play Music  |  Amazon Music  |  iHeartRadio  |  Spotify
In episode 347 of the Dream Big Podcast, hosts Sophia Karpman and Olga Karpman explore the topic of luck vs hard work and debunk common myths about luck. They show how hard work can make a big difference in achieving your dreams, not just pure luck. 
Sophia shares some fun jokes and stories, including a magical story about a leprechaun and a joke about a lucky duck. They discuss how luck is not the only factor that determines our success or happiness, but working hard and making smart choices can also help us achieve our goals and lead a fulfilling life. Sophia uses examples of successful people like Serena Williams and Kobe Bryant, who we had the privilege to interview on the Dream Big Podcast (you can listen to that episode here), to illustrate how hard work can overcome the myth of luck. 
So, big dreamers, remember that while luck can sometimes give us an extra boost, it's ultimately our hard work, smart choices, and perseverance that determine our success. Don't get discouraged by setbacks or envy others who seem to have more luck – focus on your own goals and put in the work to achieve them. And who knows, maybe a little bit of luck will come your way too!
Remember, luck is not just about chance or being born into the right circumstances. Luck is a combination of chance and our own actions. It's important to remember that we have more control over our lives and success than we may think. By putting in the effort, being proactive, and learning from our mistakes, we can increase our chances of achieving our dreams. So, listen to this episode and keep dreaming big, and don't forget that you have the power to make your own luck!
Love and Dream Big!
P.S Did you know that we regularly host contests and giveaways on our YouTube, TikTok, and Instagram channels? All you have to do is subscribe to our channels and leave a comment. Who knows, you might be the lucky winner of an Amazon gift card or other exciting prizes in our upcoming episodes! Take action now and check out our social media channels to join the fun.
Resources:
DB 103: Kobe Bryant, Lakers Legend, On Curiosity, Teamwork, And His Big Dream For The Future!
Not sure where to get started?
It is as easy as 1, 2, 3.
Step 1 – Enjoy These FREE Resources:
Step 2 – Subscribe To The Dream Big Podcast
Step 3 – Connect With Our Community
Share With Us How The Dream Big Podcast Has Impacted Your Family's Life.