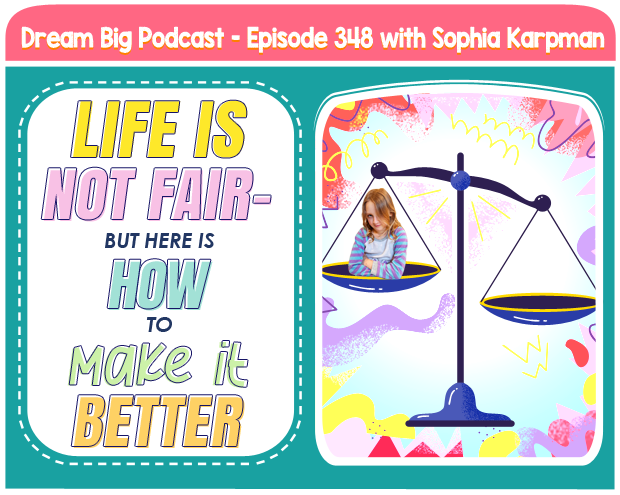 Share this:
LISTEN TO OUR PODCAST
iTunes | Stitcher | Google Play Music | Amazon Music | iHeartRadio | Spotify
SOLO EPISODE FROM SOPHIA
Big Dreamers, have you ever been feeling down? Have you been dealt a tough hand in life and struggling to find a way to move forward? If so, then this week's episode of the Dream Big podcast is a must-listen for you!
In this episode, Sophia and Olga share some valuable tips and tricks for making the best of life's unfair moments. Life is full of ups and downs, and we often encounter situations that seem unfair or disappointing. However, there are ways to handle these moments in a positive and productive manner.
Sophia uses a captivating story of a young basketball player named Lilia to illustrate how to handle disappointment and frustration in a positive way. Whether it's a canceled game, a lower grade than expected, or an unexpected injury, you'll learn how to turn negative emotions into motivation and resilience.
Some of the tips and tricks discussed in this episode include accepting your emotions without judgment and reframing the situation in a positive light. Our insights and practical advice are exactly what Big Dreamers like you need to overcome any obstacles that life throws your way.
Trust us, you won't want to miss this episode! Enjoy!
Love and Dream Big!
P.S Did you know that we regularly host contests and giveaways on our YouTube, TikTok, and Instagram channels? All you have to do is subscribe to our channels and leave a comment. Who knows, you might be the lucky winner of an Amazon gift card or other exciting prizes in our upcoming episodes! Take action now and check out our social media channels to join the fun.
Resources:
50+ Hours Of Ad-Free Quality Content of PERSONAL GROWTH RESOURCE FOR KIDS
DB #338 "Money Matters: Changing Limiting Beliefs About Money" Part 1
Not sure where to get started?
It is as easy as 1, 2, 3.
Step 1 – Enjoy These FREE Resources:
Step 2 – Subscribe To The Dream Big Podcast
Step 3 – Connect With Our Community
Share With Us How The Dream Big Podcast Has Impacted Your Family's Life.