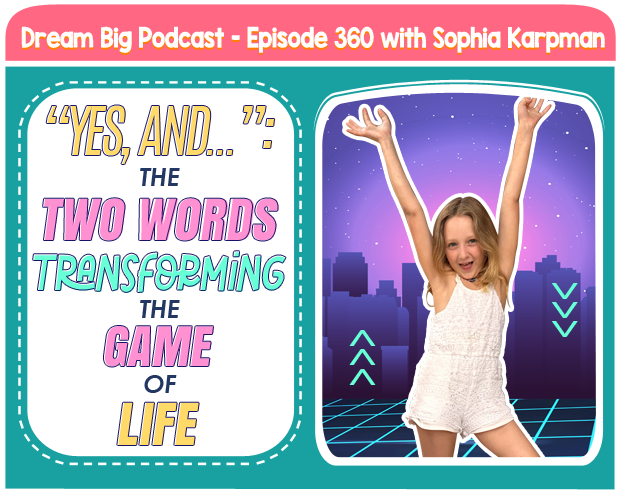 Share this:
LISTEN TO OUR PODCAST
iTunes | Stitcher | Google Play Music | Amazon Music | iHeartRadio | Spotify
This episode is sparked by our in-house mini dreamer, Sophia, and her brilliantly whimsical idea of a 'Yes Day'. Together, we're set to embark on a journey to transform our thinking and perception of reality.
Together we delve into the improv comedy world's secret recipe – 'Yes, And…' – and explore how this strategy can work its magic in everyday situations, from park hangouts to dinner table chit-chat. By saying 'Yes' and then 'And,' we're not only nodding to the situation but also expanding it with our own unique flair.
Through playful real-world scenarios, a sprinkle of humor, and thoughtful discussions, we gear up to tackle life's questions with creativity and open-mindedness, transforming ordinary days into extraordinary adventures. Whether it's playground debates or playtime preference puzzles, 'Yes, And…' proves to be a game-changer.
Join us, as your hosts, Olga and Sophia Karpman, guide you on this thrilling ride with engaging scenarios, giggle-inducing jokes for kids, and inspiring discussions. By the end of this episode, you'll not only be well-versed with the 'Yes, And…' principle but also equipped with a fresh lens to view the world.
So, Big Dreamers, buckle up, prepare to stretch your minds, ignite your imaginations, and polish your communication with this life-transforming concept. It's not just an episode; it's a rollercoaster of discovery!
Tune in to Episode 360 of the 'Dream Big Podcast,' let's 'Yes, And…' our way to dreaming BIGGER!
https://dreambigpodcast.com/360
Links mentioned in this episode:
DB 359: Party Time: It is Sophia's 8th Birthday Bonanza!
We love hearing from our Big Dreamers and your 5 STAR REVIEW helps us improve and reach more listeners like you. So, please take a moment to leave a review on Apple Podcasts and let us know what you loved most about the episode.
Scroll to the bottom, tap to rate with five stars, and select "Write a Review." Then be sure to let us know what you loved most about the episode!
Also, if you haven't done so already, follow the podcast. We will be adding a bunch of bonus episodes to the feed and, if you're not following, there's a good chance you'll miss out.
Rate, Review, & Follow on Apple Podcasts. https://dreambigpodcast.com/itunes
Not sure where to get started?
It is as easy as 1, 2, 3.
Step 1 – Enjoy These FREE Resources:
Step 2 – Subscribe To The Dream Big Podcast
Step 3 – Connect With Our Community
Share With Us How The Dream Big Podcast Has Impacted Your Family's Life.