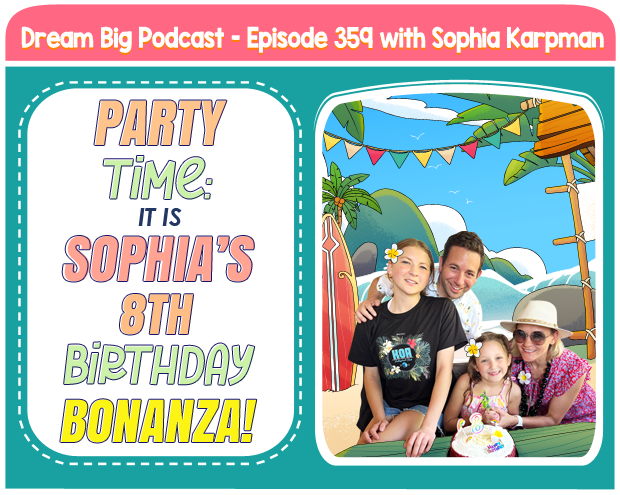 Share this: 
LISTEN TO OUR PODCAST
iTunes  |  Stitcher  |  Google Play Music  |  Amazon Music  |  iHeartRadio  |  Spotify
In this latest heartwarming episode of the Dream Big Podcast, we're taking a joy-filled detour from our usual program to throw a surprise party for our beloved host, Sophia, who just turned 8! Spearheaded by her mom, Olga Karpman, and joined by a chorus of Sophia's family and friends, we've put together a unique celebration for our little superstar.
Here's what you can look forward to in this festive episode:
Sophia's Top 8: Join us as we count down the top 8 qualities that make Sophia truly one-of-a-kind. From her radiant personality to her indomitable spirit, we're shining a spotlight on all the things that make Sophia special.

Birthday Trivia: Test your knowledge of our birthday girl in a fun trivia segment, revealing some lesser-known facts about Sophia's life and journey.

Messages of Love: You'll hear heartfelt messages from her loved ones, sharing their wishes and heartfelt tributes to Sophia. Warning: you might want to keep tissues nearby!

Memory Lane: Join us for a trip down memory lane as we share some unforgettable Sophia moments. From her first steps towards a microphone to her impressive triumphs on and off the stage, we're revisiting the journey that has shaped Sophia into the inspiring individual she is today.

Riddle Poem: Given Sophia's love for riddles, we've crafted a special riddle poem that pays tribute to our favorite host. It's a poetic journey that will test your wits and warm your heart all at once!
This episode isn't just a celebration of Sophia's 8th birthday; it's a celebration of the dreams, love, and joy that she embodies. Whether you've been with us from the start or are just joining us now, we've got a treat for you. So, tune into 'Party Time: Sophia's 8th Birthday Bonanza' on the Dream Big Podcast, and help us make Sophia's birthday truly unforgettable. Get ready for a laughter-filled, heartwarming, and inspiring episode!
Links mentioned in this episode:
DB 350: The Power of Persistence: Sophia's Journey to 50 Episodes and Beyond 
DB 310: How My Worst Enemy Became My Best Friend
DB 358: Money Matters: The Magical Principles of Save, Spend, Give. Part 3
We love hearing from our Big Dreamers and your 5 STAR REVIEW  helps us improve and reach more listeners like you. So, please take a moment to leave a review on Apple Podcasts and let us know what you loved most about the episode. 
Scroll to the bottom, tap to rate with five stars, and select "Write a Review." Then be sure to let us know what you loved most about the episode!
Also, if you haven't done so already, follow the podcast. We will be adding a bunch of bonus episodes to the feed and, if you're not following, there's a good chance you'll miss out.
Rate, Review, & Follow on Apple Podcasts. https://dreambigpodcast.com/itunes
Not sure where to get started?
It is as easy as 1, 2, 3.
Step 1 – Enjoy These FREE Resources:
Step 2 – Subscribe To The Dream Big Podcast
Step 3 – Connect With Our Community
Share With Us How The Dream Big Podcast Has Impacted Your Family's Life.