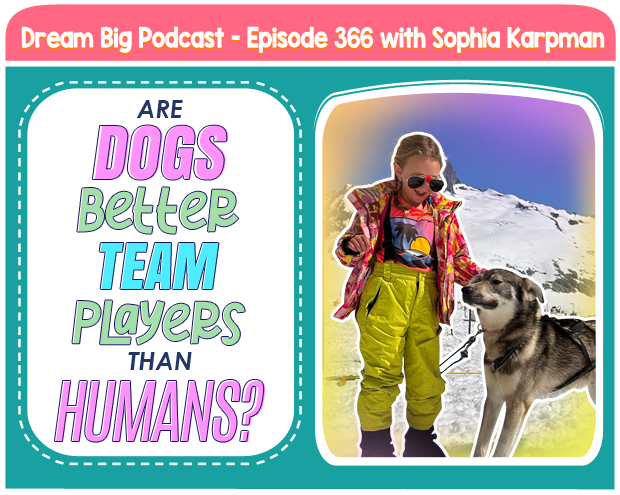 Share this:
LISTEN TO OUR PODCAST

iTunes | Stitcher | Google Play Music | Amazon Music | iHeartRadio | Spotify
In this exciting 366th episode of the Dream Big Podcast, your hosts, Sophia and Olga Karpman, take you on an unforgettable journey to the icy landscapes of Alaska one more time. Tune in as they recount their adventure-filled tales of teamwork, leadership, and the unforgettable experiences they had rowing a canoe and dog sledding across the glacier. It's a wild ride you won't want to miss!
What you'll learn:
How Sophia and her family embarked on an adventurous canoe ride with a team of strangers in the heart of Alaska.

The hilarious mishaps that occurred due to a lack of synchronization and leadership during their canoe ride.

How the canoe ride taught them the importance of teamwork and unity.

The exhilarating experience of dog sledding across a glacier with a team of Siberian Huskies.

What makes the Huskies incredible team players and what we can learn from them.

How each dog in the sledding team has a specific role and performs it with joy and dedication.

Sophia's personal reflections on the valuable lessons she learned from these unique experiences.
Resources:
DB 364: Wild Alaska Through Sophia's Eyes: Adventures and Lessons

We love hearing from our Big Dreamers and your 5 STAR REVIEW helps us improve and reach more listeners like you. So, please take a moment to leave a review on Apple Podcasts and let us know what you loved most about the episode.
Scroll to the bottom, tap to rate with five stars, and select "Write a Review." Then be sure to let us know what you loved most about the episode!
Also, if you haven't done so already, follow the podcast. We will be adding a bunch of bonus episodes to the feed and, if you're not following, there's a good chance you'll miss out.
Rate, Review, & Follow on Apple Podcasts. https://dreambigpodcast.com/itunes
Not sure where to get started?
It is as easy as 1, 2, 3.
Step 1 – Enjoy These FREE Resources:
Step 2 – Subscribe To The Dream Big Podcast
Step 3 – Connect With Our Community
Share With Us How The Dream Big Podcast Has Impacted Your Family's Life.