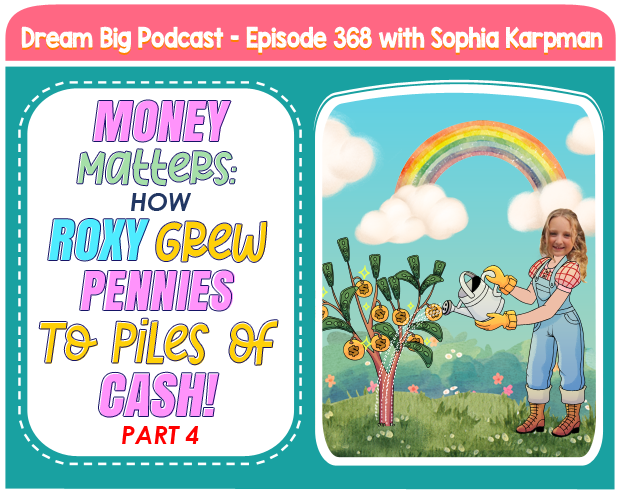 Share this: 
LISTEN TO OUR PODCAST

iTunes  |  Stitcher  |  Google Play Music  |  Amazon Music  |  iHeartRadio  |  Spotify
Dive into the latest 368th episode of our top-rated Dream Big kids podcast: "Money Matters: How Roxy Grew Pennies to Piles of Cash! – Part 4". 
Set in the magical realm of Pennville, embark on a captivating adventure with Roxy and her genie pal as they dive deep into the wonders of money growth. From the charm of compound interest to the excitement of investments, there's a wealth of knowledge waiting for every listener!
What You'll Learn:
 The magic of compound interest and how it can transform pennies into mountains of cash.

 Basic concepts of investing and how money can work for you.

 Roxy's intriguing encounter with Genie and their shared tales of financial wisdom.

 The significance of patience, time, and starting young in the world of finance.
A Penny Doubled For 30 Days Is How Much?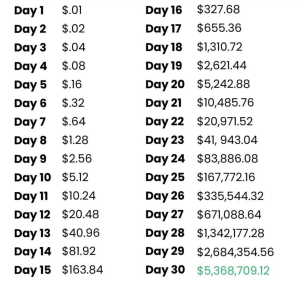 Disclaimer: The content provided in this post is for informational purposes only and should not be considered as financial advice. Always consult with a financial professional before making any investment decisions.
Resources:
DB 358: Money Matters: The Magical Principles of Save, Spend, Give. Story for kids. Part 3
DB 349: Money Matters: How Kids Can Earn Their Own Cash. Part 2
DB 338: "Money Matters: Changing Limiting Beliefs About Money" Part 1 
101 Business Ideas For Kids. The Ultimate Resource for Young Entrepreneurs (Ages 6-14)

We love hearing from our Big Dreamers and your 5 STAR REVIEW  helps us improve and reach more listeners like you. So, please take a moment to leave a review on Apple Podcasts and let us know what you loved most about the episode. 
Scroll to the bottom, tap to rate with five stars, and select "Write a Review." Then be sure to let us know what you loved most about the episode!
Also, if you haven't done so already, follow the podcast. We will be adding a bunch of bonus episodes to the feed and, if you're not following, there's a good chance you'll miss out. 
Rate, Review, & Follow on Apple Podcasts. https://dreambigpodcast.com/itunes
Not sure where to get started?
It is as easy as 1, 2, 3.
Step 1 – Enjoy These FREE Resources:
Step 2 – Subscribe To The Dream Big Podcast
Step 3 – Connect With Our Community
Share With Us How The Dream Big Podcast Has Impacted Your Family's Life.