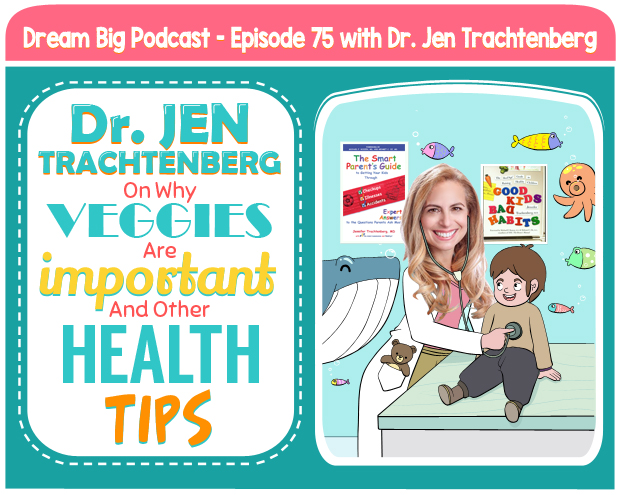 Share this: 
LISTEN TO OUR PODCAST
Subscribe and listen to the DREAM BIG Podcast on:
iTunes  |  Stitcher  |  Google Play Music  |  Soundcloud  |  iHeartRadio  |  Spotify
TODAY'S GUEST
Dr. Jen Trachtenberg is a nationally renowned parenting expert, board certified pediatrician and fellow of the American Academy of Pediatrics. She has maintained a successful private pediatric practice in New York City for more than 20 years and is mother to three children. She is the creator of the new video e-course, Pediatrician in Your Pocket – a science-based, no-judgement on-demand guide for new parents.
Dr. Jen has appeared many times on NBC's TODAY show, CNN, and Fox News. She contributes regularly with health and parenting topics, including child development, childhood obesity and sleep issues to Parents Magazine, Fatherly, The Bump, RosiePope.com and more! She has published two parenting books, The Smart Parent's Guide to Getting Your Kids through Check Ups, Illnesses and Accidents (2010), and Good Kids, Bad Habits: The RealAge Guide to Raising Healthy Children (2007).
WHAT YOU'LL LEARN
At what point Dr. Jen realized that she wanted to be a doctor.

The reason why Dr. Jen chose pediatrics as her specialty.

How Dr. Jen handles kids who are terrified of taking shots or having their throats checked.

Dr. Jen talks about "Pediatrician In Your Pocket" and why you should have it now! (use promo code PIP50 for 50% off)

Dr. Jen talks about why vegetables are important to kids, and how you can, as parents, encourage them to eat their vegetables..

How Dr. Jen manages her busy schedule.

Dr. Jen's advice to her 10-year old self.

Dr. Jen's BIG Dream for the future!

And so much more!
RESOURCES
CLAIM YOUR FREE DREAM BIG JOURNAL

We are currently offering a FREE & PERSONALIZED Dream Big Journal to say thank you for supporting our show.  Click the link above to claim your journal while this special offer is still available.
BECOME A DREAM BIG INSIDER
THANK YOU FOR LISTENING — SUBSCRIBE & LEAVE A HONEST REVIEW. GET FREE PERSONALIZED STICKERS!
To get Dream Big episodes sent directly to your device as they are published, you can subscribe:
Subscribe and listen to the DREAM BIG Podcast on:
iTunes  |  Stitcher  |  Google Play Music  |  Soundcloud  |  iHeartRadio  |  Spotify
If you received value from our podcast, we would greatly appreciate if you could take a minute to leave us a review on iTunes review on iTunes here. This helps us get more exposure for the podcast and in turn allows us to inspire more people to dream big. We read each and every review and are so grateful to our listeners who have taken the time to write us one. For a limited time only, as a way to say thank you for taking the time to leave an honest review, we will mail you 48 free personalized stickers! Follow the instructions at DreamBigPodcast.com/bonus to get your free stickers!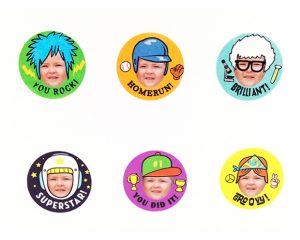 Thanks again for all of your amazing support.
Share this: