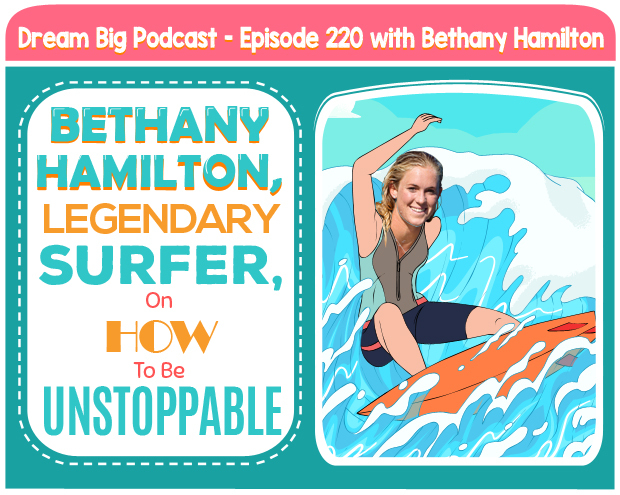 Share this: 
LISTEN TO OUR PODCAST
Subscribe and listen to the DREAM BIG Podcast on:
iTunes  |  Stitcher  |  Google Play Music  |  Soundcloud  |  iHeartRadio  |  Spotify
TODAY'S GUEST
Eva's #1 mission for the Dream Big Podcast is to inspire her listeners to believe in their potential to achieve their biggest dreams in life, even when life is fraught with obstacles and challenges.  In this regard, we can think of no better guest to inspire the young Big Dreamers than Bethany Hamilton.  At the age of 13 as a rising surf star, Bethany lost her left arm to a 14-foot tiger shark, which seemed to end her dream career. However, one month after the attack, Bethany returned to surfing and within two years had won her first national surfing title.  At 17 years old, she realized her dream of surfing professionally and she is still an active surf competitor to this day. 
There is a documentary about Bethany's life called Unstoppable available on iTunes and Netfllix (links in resources section below), and we highly recommend all Big Dreamer families watch this moving film about Bethany's inspiring journey.   In addition, Bethany has an amazing course that she recently created also called Unstoppable, and has been so generous to offer to do a giveaway of her course to one lucky Big Dreamer.  To enter your name into the giveaway, please visit this page.  The winner will be announced and contacted on October 15. 
Thank you again Bethany for being Eva's guest on the Dream Big Podcast, and for all that you do to inspire others to become unstoppable like you!
WHAT YOU'LL LEARN
How Bethany was drawn to the ocean from a young age, and why it continues to be her happy place to this day.

How Bethany was able to summon the courage to get back in the water less than a month after losing her arm in a shark attack.

Why Bethany did not let the shark attack destroy her dreams of being a professional surfer.

How Bethany has dealt with the naysayers who told her that she could never surf competitively.

Bethany's Unstoppable Documentary and what it means to be "Unstoppable." 

How Bethany balances her professional surfing career with having a family and being a mom.

Bethany's public speaking tips for anyone who is afraid of speaking in front of an audience.

Bethany's Big Dream for the future.

And so much more!
RESOURCES
Not sure where to get started?
It is as easy as 1, 2, 3.
Step 1 – Enjoy These FREE Resources:
Step 2 – Subscribe To The Dream Big Podcast
Step 3 – Connect With Our Community
Share With Eva How The Dream Big Podcast Has Impacted Your Family's Life. Eva Will Respond With A Personalized Video Message 🙂