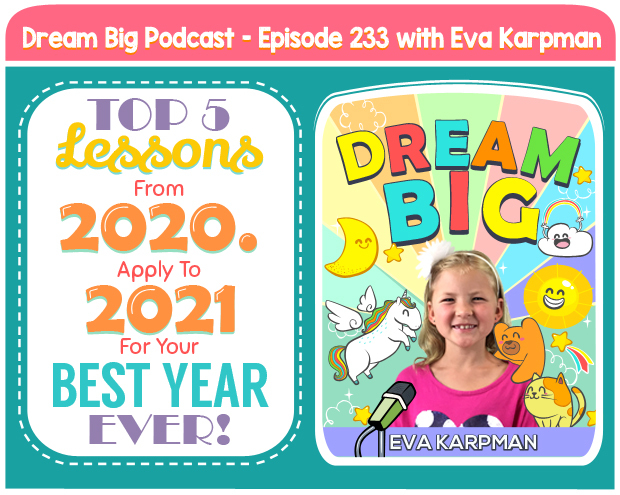 Share this: 
LISTEN TO OUR PODCAST
Subscribe and listen to the DREAM BIG Podcast on:
iTunes  |  Stitcher  |  Google Play Music  |  Soundcloud  |  iHeartRadio  |  Spotify
SOLO EPISODE FROM EVA
2020 is now officially history, and we can't be more excited for a New Year.   2021 here we come!  That said, with the many challenges of 2020 also came many important life lessons.  The final week of every year, our family discusses what we learned from the past twelve months and how our success and missteps can inform our next trip around the sun.  So in the 1st episode of 2021, we thought it would be appropriate for Eva to share the top 5 lessons we learned in 2020 and how we can all apply those lessons to our decisions in 2021 to make this the best year ever.
RESOURCES
Not sure where to get started?
It is as easy as 1, 2, 3.
Step 1 – Enjoy These FREE Resources:
Step 2 – Subscribe To The Dream Big Podcast
Step 3 – Connect With Our Community
Share With Eva How The Dream Big Podcast Has Impacted Your Family's Life. Eva Will Respond With A Personalized Video Message 🙂