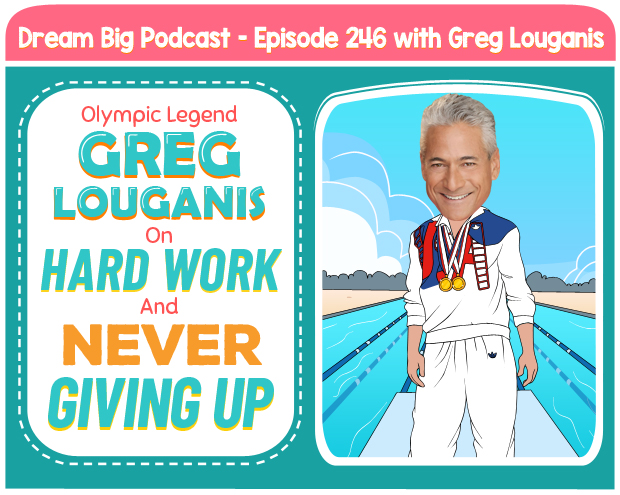 Share this: 
LISTEN TO OUR PODCAST
Subscribe and listen to the DREAM BIG Podcast on:
iTunes  |  Stitcher  |  Google Play Music  |  Soundcloud  |  iHeartRadio  |  Spotify
TODAY'S GUEST
It is not every day you get the opportunity to interview someone considered to be a GOAT — the greatest of all time.   It was such a thrill for Eva to chat with Greg Louganis, four-time Olympic diving champion and the greatest diver of all time.  
Greg took part in his first Olympic Games, the 1976 Montreal Games, aged just 16 and claimed silver in the 10m platform. Four years later, he was firmly established as the world's best diver, but the United States' boycott of the 1980 Moscow Games meant that he had to wait another four years to taste Olympic gold. At the 1984 Los Angeles Games, Greg found himself competing in front of his home crowd in California. He won the gold medal in both the 3m springboard and 10m platform events. This made him the first Olympian in 56 years to achieve this spectacular double.  He repeated this feat in the 1988 Summer Olympics, becoming the only man and the second diver in Olympic history to sweep the diving events in consecutive Olympic Games.  
Thank you Greg for inspiring Eva and the Big Dreamers with your incredible life story and the lessons you shared about hard work, overcoming obstacles, and never giving up.
WHAT YOU'LL LEARN
How Greg found his passion for diving.

Greg on how he handled bullies when he was younger, and his advice to young big dreamers who are experiencing bullying today.

Greg's training schedule and how many dives he did each day when he was at the height of his career.

How many times Greg practiced his diving tricks before he mastered them.

What goes through Greg's head when he is competing in the Olympics.

Greg explains why he did not give up after hitting his head in the diveboard at the 1988 Olympics, and who has been his inspiration to always push forward, even when he experiences a setback.

Greg talks about how perceptions in society have changed over time towards the LGBT community.

What Greg is up to these days.

Greg's Big Dream for the future.

And so much more!
RESOURCES
Not sure where to get started?
It is as easy as 1, 2, 3.
Step 1 – Enjoy These FREE Resources:
Step 2 – Subscribe To The Dream Big Podcast
Step 3 – Connect With Our Community
Share With Eva How The Dream Big Podcast Has Impacted Your Family's Life. Eva Will Respond With A Personalized Video Message 🙂