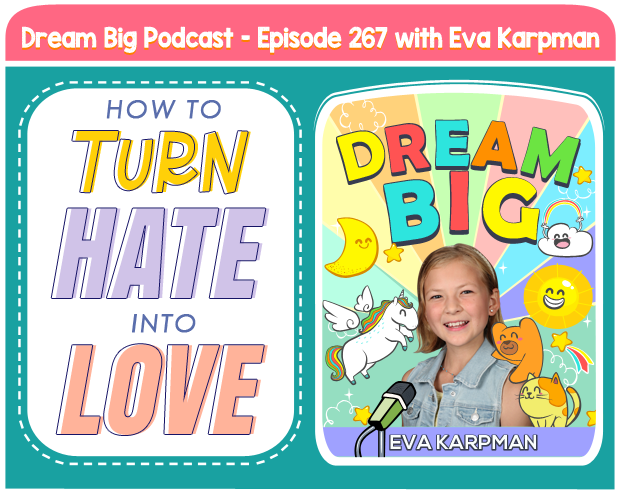 Share this: 
LISTEN TO OUR PODCAST
Subscribe and listen to the DREAM BIG Podcast on:
iTunes  |  Stitcher  |  Google Play Music  |  Soundcloud  |  iHeartRadio  |  Spotify
SOLO EPISODE FROM EVA
Lizzie Velasquez was born with a rare syndrome that makes it impossible for her to gain weight. As a result, even though Lizzie is an adult, she has never weighed more than 65 pounds. A number of years ago, a terrible cyber bully posted a video on Youtube titled "World's Ugliest Woman" and the video was about Lizzie.
Not only was this a horrible, horrible thing to do, but unfortunately the video went viral so millions of people saw Lizzie in the "World's Ugliest Woman" video and the comments were even worse. When Lizzie discovered the video online, she was completely devastated.
In today's episode, Eva shares the powerful decision that Lizzie made in weeks and months after the video was posted so that this nightmarish experience did not destroy her life. Quite the opposite, Lizzie now believes that the video being posted was one of the best things that ever happened to her. Eva shares how Lizzie was able to come to such a inspiring decision, and how this choice has impacted the lives of so many others who struggle with self-esteem or have been the victims of bullying. Thank you Lizzie for inspiring so many. You are beautiful inside and out!
Not sure where to get started?
It is as easy as 1, 2, 3.
Step 1 – Enjoy These FREE Resources:
Step 2 – Subscribe To The Dream Big Podcast
Step 3 – Connect With Our Community
Share With Eva How The Dream Big Podcast Has Impacted Your Family's Life. Eva Will Respond With A Personalized Video Message 🙂