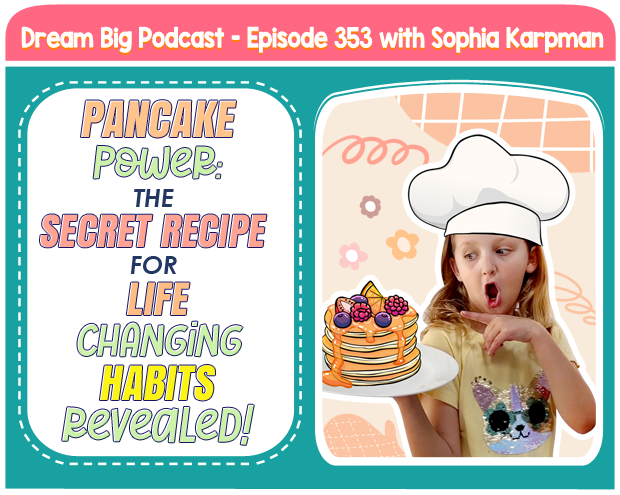 Share this: 
LISTEN TO OUR PODCAST
iTunes  |  Stitcher  |  Google Play Music  |  Amazon Music  |  iHeartRadio  |  Spotify

Join Sophia and Olga Karpman in this tasty episode #353 of the Dream Big Podcast as they share the power of "pancake stacking" your habits for success. Uncover the secrets behind building good habits, developing a growth mindset, and reaching your goals faster than ever before.
In this delicious episode, you'll learn:
T

he origins of "pancake stacking" and how it can revolutionize your habits

H

ow to identify and break bad habits while cultivating good ones for lifelong success

T

he importance of a growth mindset and how it empowers you to achieve your dreams

T

he step-by-step process to build your own habit pancake stack, tailored to your goals
Kids and parents alike will love this delightful and inspiring journey into the world of habits, complete with a heartwarming story about Roxy and her adventure in the Flapjack Forest. Dig into this scrumptious episode and start stacking your way to success today!
Rate, Review, & Follow on Apple Podcasts
"You're probably the best podcast I've ever played! It calms me down when I'm nervous! ❤️"<– If that sounds like you, please consider rating and reviewing our show! This helps us support more Big Dreamers — just like you — move toward the life they desire for their family. Click here, scroll to the bottom, tap to rate with five stars, and select "Write a Review." Then be sure to let us know what you loved most about the episode!
Links mentioned in this episode:
DB 328 – How To Break Bad Habits (And Build Good Ones!)
DB 280: Small Habits, BIG Results!
DB 263: A Genius Trick To Build Great Habits!
DB 058: Sports Nutritionist Melissa Hartwig On How To Create Lifelong Healthy Habits
Not sure where to get started?
It is as easy as 1, 2, 3.
Step 1 – Enjoy These FREE Resources:
Step 2 – Subscribe To The Dream Big Podcast
Step 3 – Connect With Our Community
Share With Us How The Dream Big Podcast Has Impacted Your Family's Life.