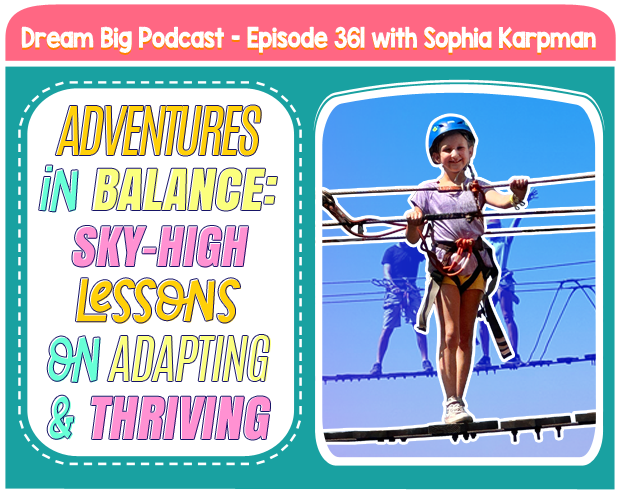 Share this: 
LISTEN TO OUR PODCAST
iTunes  |  Stitcher  |  Google Play Music  |  Amazon Music  |  iHeartRadio  |  Spotify
In this thrilling episode of the Dream Big Podcast, Sophia Karpman takes the reins for the first time, piloting us on an incredible solo adventure directly from the sun-soaked skies of Baja California, Mexico. She recounts a tale about more than just zip-lining – it's a journey filled with important lessons on balance, adaptability, and navigating 'wobbly bridges' in life. 
This is an episode you won't want to miss – it's perfect for anyone facing a challenge, wanting to conquer a fear, or just needing a dose of inspirational fun during a family car ride. So, strap in, tune in, and get ready to be inspired by Sophia's vibrant energy and zest for life as she embarks on her first solo adventure on the Dream Big Podcast.
Show her some love for her bravery by leaving your review on iTunes or wherever you get your podcasts. Your feedback is invaluable to us and helps other Big Dreamers find and enjoy the podcast.
Let's dream big and take bold action together! 
Links mentioned in this episode:
DB 310: How My Worst Enemy Became My Best Friend
DB 312: STOP making assumptions. Here's WHY!
We love hearing from our Big Dreamers and your 5 STAR REVIEW  helps us improve and reach more listeners like you. So, please take a moment to leave a review on Apple Podcasts and let us know what you loved most about the episode. 
Scroll to the bottom, tap to rate with five stars, and select "Write a Review." Then be sure to let us know what you loved most about the episode!
Also, if you haven't done so already, follow the podcast. We will be adding a bunch of bonus episodes to the feed and, if you're not following, there's a good chance you'll miss out.
Rate, Review, & Follow on Apple Podcasts. https://dreambigpodcast.com/itunes
Not sure where to get started?
It is as easy as 1, 2, 3.
Step 1 – Enjoy These FREE Resources:
Step 2 – Subscribe To The Dream Big Podcast
Step 3 – Connect With Our Community
Share With Us How The Dream Big Podcast Has Impacted Your Family's Life.