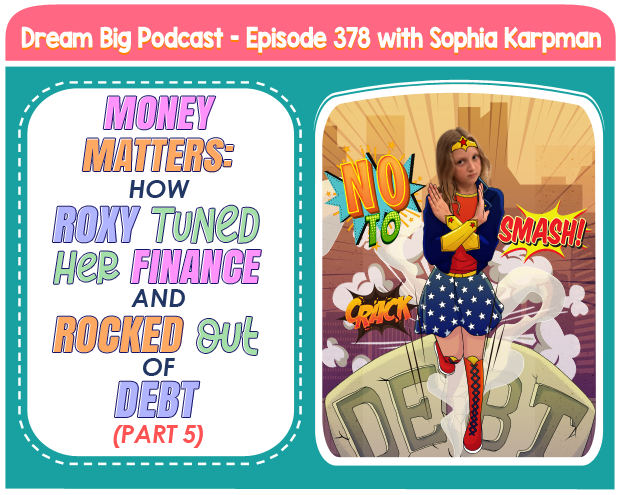 Share this: 
LISTEN TO OUR PODCAST

iTunes  |  Stitcher  |  Google Play Music  |  Amazon Music  |  iHeartRadio  |  Spotify
Join the mother-daughter duo of the Dream Big Podcast, Olga and Sophia Karpman, in episode 378 as they progress with the "Money Matters" series for kids. 
In this 5th installment, they captivate young listeners with tales from the whimsical world of Pennville, simplifying financial concepts in an engaging manner. In this episode, travel alongside Roxy as she navigates the financial highs and lows with the help of her magical genie friend, Ginnie. Guided by financial guru Dave Ramsey, and inspired by his "Snowball Method", they shed light on the nuances of borrowing money and the essence of wise spending. This charming narrative is replete with valuable insights and lessons, making it an ideal episode for aspiring dreamers like you!
What You'll Discover:
The reasons why using cards for shopping wasn't Roxy's best decision.

The idea behind "debt" and Roxy's empathy for Ginnie, reflecting on his days of confinement.

Dave Ramsey's "Snowball Method" and how it can be used to pay off debts.

Ginnie's perceptive recommendations and practical techniques for managing money effectively.

Roxy's endeavor to tackle her financial challenges and find joy.

The importance of thoughtful spending and the value of having well-informed friends to advise you.
Tune in now to listen with the entire family!
Disclaimer: The content provided in this post is for informational purposes only and should not be considered as financial advice. Always consult with a financial professional before making any investment and financial decisions.
Resources:
DB 368: Money Matters: How Roxy Grew Pennies to Piles of Cash! – Part 4
DB 358: Money Matters: The Magical Principles of Save, Spend, Give. Story for kids. Part 3
DB 349: Money Matters: How Kids Can Earn Their Own Cash. Part 2
DB 338: "Money Matters: Changing Limiting Beliefs About Money" Part 1 
101 Business Ideas For Kids. The Ultimate Resource for Young Entrepreneurs (Ages 6-14)

We love hearing from our Big Dreamers and your 5 STAR REVIEW  helps us improve and reach more listeners like you. So, please take a moment to leave a review on Apple Podcasts and let us know what you loved most about the episode. 
Scroll to the bottom, tap to rate with five stars, and select "Write a Review." Then be sure to let us know what you loved most about the episode!
Also, if you haven't done so already, follow the podcast. We will be adding a bunch of bonus episodes to the feed and, if you're not following, there's a good chance you'll miss out. 
Rate, Review, & Follow on Apple Podcasts. https://dreambigpodcast.com/itunes
Join Dream Big Podcast on Social:
Instagram: https://www.instagram.com/dreambigpodcast/
Youtube: https://www.youtube.com/@dreambig.podcast
Tik-Tok: https://www.tiktok.com/@dreambigpodcast
Twitter: https://twitter.com/dreambigpod
Facebook: https://www.facebook.com/dreambigpodcast
Not sure where to get started?
It is as easy as 1, 2, 3.
Step 1 – Enjoy These FREE Resources:
Step 2 – Subscribe To The Dream Big Podcast
Step 3 – Connect With Our Community
Share With Us How The Dream Big Podcast Has Impacted Your Family's Life.