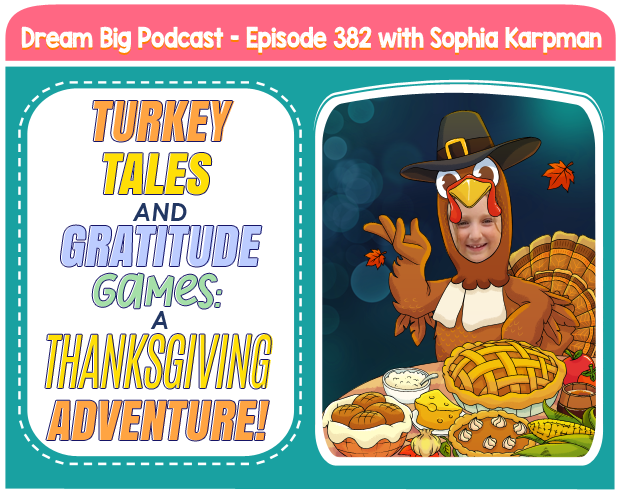 Share this: 
LISTEN TO OUR PODCAST

iTunes  |  Stitcher  |  Google Play Music  |  Amazon Music  |  iHeartRadio  |  Spotify
Welcome to a Thanksgiving celebration like no other with the Dream Big Podcast's latest episode! Join us at Dream Big Podcast Episode #382 where your hosts, Sophia and Olga, dish out a smorgasbord of tales and trivia that promise to sprinkle your Thanksgiving with extra magic and a heap of gratitude.
Inside This Episode:
Be whisked away on a flight of fancy to a world where a man's constant grumbling lands him in the midst of a zany zoo adventure. This story isn't just a barrel of laughs; it's studded with pearls of wisdom for listeners of all ages.

Take the plunge into the depths of gratitude with Sophia and Olga as your guides. They'll unveil the rich history and the lesser-known facts of Thanksgiving, transforming the way you perceive this heartfelt holiday.

Leap into family fun with engaging activities like the 'Family Tree' game and the 'Thankful Jar' challenge. These aren't just games; they're stepping stones to creating a more connected and appreciative family dynamic.
The Dream Big Podcast isn't just for your ears; it's a hands-on celebration of thankfulness. We're inviting you and your family to not just listen, but to participate, to share, and to discover new facets of gratitude.
This Thanksgiving, let's do more than just give thanks—let's live it! Snuggle up with your loved ones, hit the play button, and let the Dream Big Podcast infuse your Thanksgiving with stories and activities that will become a treasured part of your family's holiday tradition.
Don't forget to tell us which games became part of your Thanksgiving and how they brought your family together. Join us in making this Thanksgiving more than a holiday—it's a memory in the making, a chapter in your family's saga of cherished moments. Dream Big and thankful—let's start a new Thanksgiving tradition together!
You will also love: 
DB 381: Roxy's Kindness Countdown: How The Holiday Spirit Took Over Pennyville
DB 380: Tiny Hero, Mighty Gratitude: The Tale of the Lion and the Mouse
DB 332: Dream Big & Trust The Process: Step-By-Step Instructions On How To Create Your Own Vision Board
We love hearing from our Big Dreamers and your 5 STAR REVIEW  helps us improve and reach more listeners like you. So, please take a moment to leave a review on Apple Podcasts and let us know what you loved most about the episode. 
Scroll to the bottom, tap to rate with five stars, and select "Write a Review." Then be sure to let us know what you loved most about the episode!
Also, if you haven't done so already, follow the podcast. We will be adding a bunch of bonus episodes to the feed and, if you're not following, there's a good chance you'll miss out. 
Rate, Review, & Follow on Apple Podcasts. https://dreambigpodcast.com/itunes
Join Dream Big Podcast on Social:
Instagram: https://www.instagram.com/dreambigpodcast/
Youtube: https://www.youtube.com/@dreambig.podcast
Tik-Tok: https://www.tiktok.com/@dreambigpodcast
Twitter: https://twitter.com/dreambigpod
Facebook: https://www.facebook.com/dreambigpodcast
Not sure where to get started?
It is as easy as 1, 2, 3.
Step 1 – Enjoy These FREE Resources:
Step 2 – Subscribe To The Dream Big Podcast
Step 3 – Connect With Our Community
Share With Us How The Dream Big Podcast Has Impacted Your Family's Life.