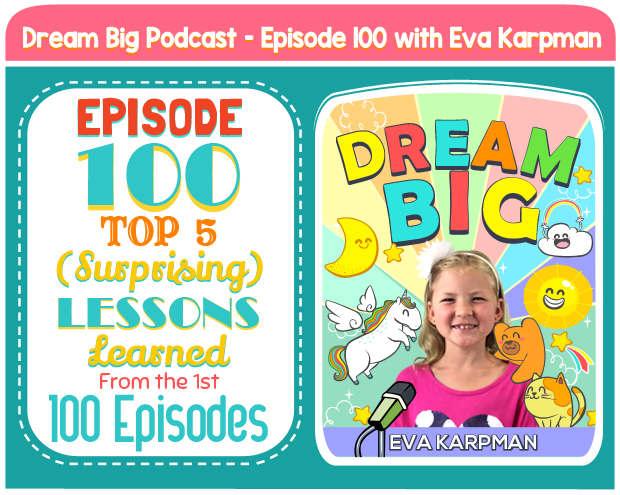 Share this: 
LISTEN TO OUR PODCAST
Subscribe and listen to the DREAM BIG Podcast on:
iTunes  |  Stitcher  |  Google Play Music  |  Soundcloud  |  iHeartRadio  |  Spotify
SOLO EPISODE FROM EVA
We did it!  100 Episodes of the Dream Big Podcast.   Nearly two years of publishing weekly episodes.   It has been a remarkable journey and we thank you all for being part of it.   Rather than do a normal interview or solo episode, Eva wanted to recap the top 5 lessons she has learned from the first 100 episodes.  What's so incredible about these 5 lessons is that we could not have predicted any of them when we first launched the show. But that is the way life works!  You live, and you learn!
Eva has learned so much and we know from the feedback we get that all you Big Dreamers have learned a ton too!  We are excited to continue this journey with you, as we work now towards Episode 200 and beyond 🙂
We'll let you listen to the episode to discover the 5 lessons, but we do have a few exciting announcements to make here:
Introducing Sophia Karpman, Eva's 3-year-old younger sister

—  In this 100th episode, Eva introduces her sister Sophia who will be making occasional appearances on the show.   She has quite the personality and we think she'll bring a lot of laughs and fun to the podcast.

Dream Big Academy – Beta Group – Limited to 50 people – In addition, we are hard at work at the Dream Big Academy — a course that Eva is creating with her parents (Alex and Olga) to teach kids about success principles (e.g. self-belief, positive attitude, gratitude, etc).   We feel that these concepts are not adequately taught at schools, that all the materials created by top "gurus" are made by adults for adults, and that it is never too early to start learning these concepts. We are almost done with Section 1 of the course which is all about the power of self-belief — and it is incredible content.  If you would like to be part of our Beta Group and receive the first section of the course for FREE, then please sign up now at DreamBigPodcast.com/beta and we will send you the course materials very soon. We are going to cap the number of Beta members at 50, so if you want a spot please sign up now before the group fills up.
MENTIONED IN THIS EPISODE
Eva references a number of previous episodes as she discussed her Top 5 lessons learned.  As promised here are the links to those episodes:
BECOME A DREAM BIG INSIDER
CLAIM YOUR FREE DREAM BIG JOURNAL

We are currently offering a FREE & PERSONALIZED Dream Big Journal to say thank you for supporting our show.  Click the link above to claim your journal while this special offer is still available.
THANK YOU FOR LISTENING — SUBSCRIBE & LEAVE A HONEST REVIEW. GET FREE PERSONALIZED STICKERS!
To get Dream Big episodes sent directly to your device as they are published, you can subscribe:
Subscribe and listen to the DREAM BIG Podcast on:
iTunes  |  Stitcher  |  Google Play Music  |  Soundcloud  |  iHeartRadio  |  Spotify
If you received value from our podcast, we would greatly appreciate if you could take a minute to leave us a review on iTunes review on iTunes here. This helps us get more exposure for the podcast and in turn allows us to inspire more people to dream big. We read each and every review and are so grateful to our listeners who have taken the time to write us one. For a limited time only, as a way to say thank you for taking the time to leave an honest review, we will mail you 48 free personalized stickers! Follow the instructions at DreamBigPodcast.com/bonus to get your free stickers!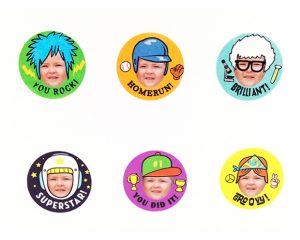 Thanks again for all of your amazing support.
Share this: